ASVB Training
We offer a range of social impact measurement training to support you wherever you are on your social value journey. Maybe you're just starting out and need to understand what social value is? Or maybe you're trying to get funding to address a social problem and need to be able to communicate the social value of your idea? Or perhaps you're investing in shared value partnerships or embedding social procurement and need to understand your social return on investment? Whatever the reason, if you need to understand how to measure social impact, let the ASVB help make it simple.
We offer a number of free webinars which you can register for below:
IMPACT MEASUREMENT MADE SIMPLE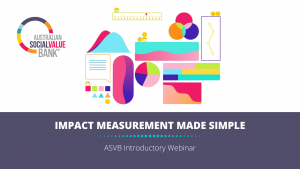 Join us for an introduction to the Australian Social Value Bank (ASVB) and how we can help make social impact measurement simple.
REGISTER HERE
HOW TO CALCULATE YOUR SOCIAL VALUE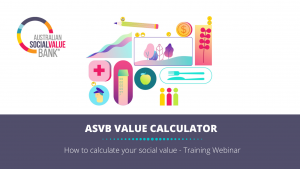 Join us for our ASVB Value Calculator – how to calculate your social value training webinar.
REGISTER HERE
We also offer one off topical sessions that are of interest to the ASVB Community.
To stay up to date with all of our upcoming webinars, please join our mailing list.
JOIN THE ASVB MAILING LIST
MASTERCLASS TRAINING
We are currently re-designing our Masterclass to be delivered online.
We offer bespoke training sessions for organisations trying to embed a culture of social impact measurement, supporting the development of a shared understanding of social value and a common language across your team.
If you are interested in our Masterclass training or would like to discuss bespoke training for your organisation, please fill out the Training Register below and we will be in touch.
TRAINING REGISTER