ASVB Licence Fees
Our vision is to support as many people as possible to use the ASVB; we are passionate about making social impact measurement accessible and achievable for everyone.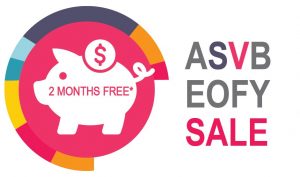 REGISTER AS A NEW ASVB USER BEFORE THE END OF THIS FINANCIAL YEAR AND RECEIVE 2 EXTRA MONTHS FREE!**
We have introduced a sliding licence fee scale based on the size of your business, as well as a grant and subsidy scheme, to ensure everyone can access the ASVB, including those with limited resources.
This means that 'Large' and 'Very Large' businesses that purchase a 12 month user licence for the ASVB will be 'paying it forward' by supporting a Micro business to use the ASVB for 12 months at either a substantially reduced rate (subsidy) or for free (grant).
To be eligible to apply for a grant or subsidy you must be an Australian business with an annual revenue of less than $1.5 million. (Please note – conditions apply)
Apply for grant/subsidy
| Business Size | Annual Revenue | Annual Licence For-profit | Annual License Not-for-profit |
| --- | --- | --- | --- |
| Micro | $1.5M | Subsidy | Grant |
| Small | <$15M | $5,000 | $4,250 |
| Medium | <$50M | $9,000 | $7,650 |
| Large | <$100M | $17,000 | $14,450 |
| Very Large | >$100M | $40,000 | $34,000 |
*NB – All Licence Fees listed in the table above are in Australian Dollars, exclude GST and cover a 12 month period. User licences can be paid for via automatic monthly installments using a credit card, however a 5% fee will apply to cover processing costs.
**EOFY SALE Terms and Conditions – Offer only open to new Registrations, current Licences will remain as per the Licence Agreement. Offer not open to Grant and Subsidy Applications. Registration must be finalised (payment received) by COB 30 June 2018 to be eligible for the offer. User Licence Agreement will be in effect for the duration of the 14 months.